Overview
The AJ-05 Detector for Arsenic rapidly and easily detects dangerous or intentionally added levels of Arsenic in Foods and Drink.  The detection limit of the AJ-05 Arsenic Detector is 500 parts per billion (ppb) which prevents naturally occurring Arsenic from causing a false-alarm.  For these detectors, please see our Trace Arsenic Detectors.
How It Works
A sample is prepared by chopping solid foods into small pieces and mixing with an equal volume of clean water. Liquid samples are used as is.
Remove the white "Detection Strip" from the pouch and add the liquid portion of the prepared sample to the line marked on the pouch.
Seal the detector using the provided clip, break the two ampules by pressing on the plastic piece holding the glass ampules.  Gently massage the pouch for 10-15 seconds.
Unseal the detector and place the detection strip through the two holes on the top of the pouch and hold it upright for 90 seconds.  After 90 seconds remove the strip and view any color formed on it.  Compare the results to the provided chart.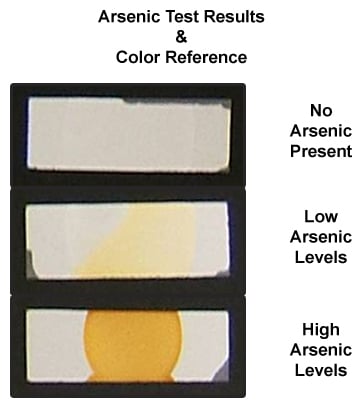 A simple color change alerts the user if Arsenic is present.
The detectors can be used to test water or liquid for the presence of Arsenic. Full instructions are provided to ensure that all tests are performed properly.
Testing for Arsenic can be completed in less than TWO MINUTES. A reference color chart is provided for interpreting the test results.
Features
The AJ-05 Arsenic Detectors are capable of rapidly and easily detecting ALL arsenic-containing compounds in water and urine samples and offers:
Simple, Color-based Detection

Results in 15 to 120 Seconds

Low-Cost Analysis

Prevention of False-Positives by naturally occurring Arsenic.
Kit Contents
AJ-05 Detection Pouches
Full Color Instructions
Pipette for Easily Transferring Sample.