Overview
Our Formaldehyde Dip-Stick Detectors allow for rapid, easy semi-quantitative detection of Formaldehyde in food and drink via a visible color change.  The intensity of the color can be compared with a provided color chart and a concentration can be established.
The FRM-04 Dipstick Detectors work ideally between concentration ranges of 0 – 250 parts per million.  Anything greater than 250 parts per million should be diluted to be within this range.
FRM-04 – Formaldehyde Dip-Stick Detector
$6.45 – $64.95
Features:
Detect Formaldehyde using a Single Test Strip
Detects between 0 and 250 parts per million.  Larger concentrations should be diluted.
Obtain Results in Four Minutes
No Additional Tools / Accessories Required
Test Liquids or Solids
No Special Storage Requirements
No Special Handling Requirements
Convenient to Store & Transport
New Design (PATENT PENDING)
FRM-04 Detection Kit Contents:
Formaldehyde Test Strips
Full Instructions
Color Reference Chart
More Information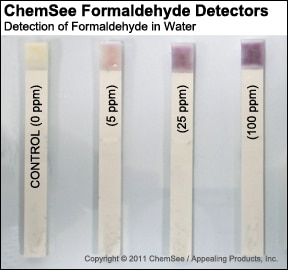 A simple color change alerts the user if formaldehyde is present.
The detectors can be used to test water or urine for the presence of formaldehyde. Full instructions are provided to ensure that all tests are performed properly.
Testing for Formaldehyde can be completed in less than FIVE MINUTES. A reference color chart is provided for interpreting the test results.
The FRM-04 Formaldehyde Dip-Stick Detectors were developed to detect TRACE amounts of Formaldehyde between 0 – 200ppm Formaldehyde.