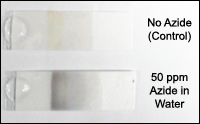 The ChemSee Azide Detection Tab allows for the rapid, color-based detection of azides in solution. It is useful in many applications including:
– Detecting Residual Azides in Pharmaceutical Preparations
– Detecting Azides in Recycled Solvents
– Detecting Azides in Industrial Wastewater
Product Description and Use

To test a sample for Azides, apply three to five droplets onto the detector port marked "Place Sample Here" and wait until the test end turns red.  If Azides are present in the sample, a dark brown or black band will form on the detector. Testing basic solutions with the AZD-P2 requires a simple pretreatment step during which the sample is added to a preparation pouch and mixed thoroughly. This mixture is then applied to the same detector port as before.
Features:
Detects Azides in Concentrations of 50 ppm in Neutral Solutions and of 100 ppm in Basic Solutions
Includes Pretreatment Component for Testing Alkaline Mixtures
12 Month Shelf Life
Full Instructions provided with Each Detector
Avaliable Products
Detects concentrations of 50 ppm or greater azides in neutral solutions (pH 5 – 8). Provided with full color instructions.

Retail Price: $15/test

Detects concentrations of 100 ppm or greater azides in basic solutions (pH 8 – 14). Provided with full color instructions.

Retail Price: $18/test
For pricing of large orders or additional information on these Kits, please
Request a Quote
and a representative will contact you with the requested information.