EYAL System for Toxic Gas Exposure Monitoring (WDD-04 & DD-04)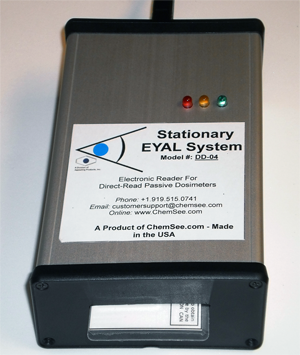 ChemSee's EYAL System allows for the quantitative measurement of exposure dose from its badge dosimeters. Use of the electronic readers allows for non-biased analysis and record-keeping of an employee's average exposure over the course of a day, week, month or year.
ChemSee's electronic readers are available with management software that allows individual tracking and record-keeping for a variety of toxic industrial gases.
Features
Quantitative Measurement of Exposure to Toxic Gas
System can Monitor Fixed or Moving Locations, Vehicles or Personnel
Lightweight and Low Footprint Design
System Works with ALL Available ChemSee Dosimeters
System is Simple to Set Up and Easy to Operate
Available EYAL Systems

Wireless Readers and System for continuous, real-time monitoring and record keeping of exposure ot toxic industrial gases and radiation. Wireless EYAL – Product Datasheet

Quantitative Reader for ChemSee Badge Dosimeters with data storage and record-keeping of employee and location exposure to toxic gases and radiation. Stationary EYAL – Product Datasheet
ChemSee will provide a custom quote to address your specific monitoring needs, please Request a Quote and our representatives will contact you shortly.