Overview
The In-Flight Explosives Detection Kit allows any stewardess, pilot, or traveler to determine in less than 3 minutes if a suspicious powder, solid or liquid found on board an airplane is an explosive or could be used to make an explosive.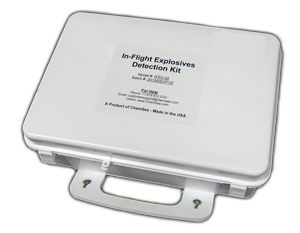 The In-Flight Explosives Detection Kit, (IFED), comes with five separate detectors for explosives and explosive precursors. The IFED contains no harmful solvents or aerosols and can be used safely on-board aircraft, even in flight. The Kit is small (10x7x3″) and lightweight (410gm), making it easy to carry and store on aircraft.
The IFED was designed to reduce the significant cost of re-routing aircraft and associated delays caused when suspicious substances are found during aircraft flights
Product Description and Use
The IFED contains five detectors:
Nitro-Pen – Explosive Residues of Nitro-Organics, Nitramines and Inorganic Nitrates
Examples: TNT, PETN, HMX, RDX
On-The-Spot – Explosive Residues of Inorganic Nitrates
Examples: Ammonium Nitrate, Potassium Nitrate, Sodium Nitrate
Verifier – Explosive Precursors, Flammables and Strong Oxidizers
Examples: Acetone, Hydrogen Peroxide
Gel-Ox – Explosive Precursors, Strong Oxidizers in Thick Liquids and Gels
Examples: Hydrogen Peroxide
Acid Test – Explosive Precursors, Strong Acids
Examples: Sulfuric Acid, Hydrochloric Acid
All detectors form color when the target explosive or precursor is present.  They are simple to use, even for unskilled personnel and give results in seconds.
Kit Features
Contains ALL NECESSARY TOOLS for complete analysis
Sample collection devices included
6 Month Shelf Life
Full Color Instructions and Reference colors provided
Instructional Videos Available

For Pricing and Additional Information,
Please Request a Quote!